DESCRIPTION oF WORKPLAN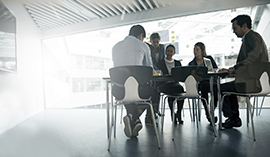 We encompassed our specific objectives in two strategic areas:
Research coordination, by
Developing strategies to collect population based data
Assessing potential biomarkers for ME/CFS
Defining a standardized clinical diagnosis for ME/CFS
Coordinating efforts to determine the social impact of ME/CFS and to appraise the economic burden of the disease
Capacity building, by
Involving early carer investigators (ECIs)
Establishing communication links with industrial organisations, especially small/medium-sized enterprise (SMEs).
Disseminating research findings
Such objectives will be pursued by the EUROMENE working groups (WGs)
more
The working groups
Clinical research enablers and diagnostic criteria
Integrate the European research with global efforts for up-scaled improved ME/CFS patient management via platform cross-talk and joint activity planning.
more
Communication
Capacity increase in ME/CFS research, career pathway visualisation for ECIs.
more
Dissemination and exploitation
Impact multiplication of the Action.
more
Survey on ME/CFS including epidemiology, diagnosis and health/social care in Europe from participating countries and from ECDC datasets (Month – 12);


To be delivered
Report on existing ME/CFS biobanks, deployment and access, data availability and restrictions (Month - 12 );



To be delivered
Survey for capacity development target groups: PhD students/candidates, ECIs, young principal investigators, researchers, clinicians, health policy makers (Month – 6)

To be delivered
On 21st April 2016, the first meeting of the EUROMENE Cost Action CA 1511
held in Brussels giving general information on the cost action mechanisms.





Brussels
The second Euromene Coast Action meeting was held in Riga on 29th-30th September 2016 with a welcoming at the Riga University by the chair Modra Murovska (Latvia) and the GH member Uldis Berķis (Latvia).




Riga
Berlin 27 January, 2017
The third meeting of the EUROMENE Cost Action CA 1511 held in Berlin
at the Charite with a welcomed by the local organizer
Carmen Scheibenbogen (Germany) and the Chair Modra Murovska (Latvia).



Berlin
The fourth meeting of the EUROMENE Cost Action was held in Barcelona (Spain) at Vall d'Hebron University Hospital (16 – 17 March 2017).

On

Thursday, March 16, 2017, t

he meeting had a welcome by

Local Director of Promotional Clinical Research (Xavier Cañas),

General Director of Planning and Evaluation, Catolonia Generality (Maria

J. Pueyo),

Local Chair (Jesus Castro),

Local Vice-Chair (Julià Blanco) and

COST Chair (Modra Murovska).




Barcelona
On 07 September 2017 was held in Belgrade the 5th EUROMENE meeting. The meeting discussed on different topics...











Belgrado
Purpose of training school had as the main topic the dissemination on knowledge regarding the latest generation technologies to increase the skills of Early Career Investigators (ECI) involved in ME/CFS research.









Pavia Summer School